The most stylish complex is now ready for pre-sale through Izmir Estate. This 1050-unit complex is located in Bornova area of Izmir. One of the best neighborhoods in the Izmir city. This project is constructed on a 15,000 square-meters land. There is 5 blocks with plans of one- to four-bedroom units in this stylish complex. You can probably find our dream home among these units. Because the constructor has provided diverse plans for every taste and need. Moreover, this project is well-positioned and has all the amenities for a perfect life. In other words, one on hand, there is a great access to the city center by subway and bus. On the other hand, the varied facilities of this stylish complex would bring you comfort, joy and health.
Stylish Amenities for the stylish complex:
You can benefit from two kind of amenities. First, the urban amenities near the project, such as: public and private hospitals, public and private schools, shopping malls and shopping centers, and universities like Ege University and Yasar University.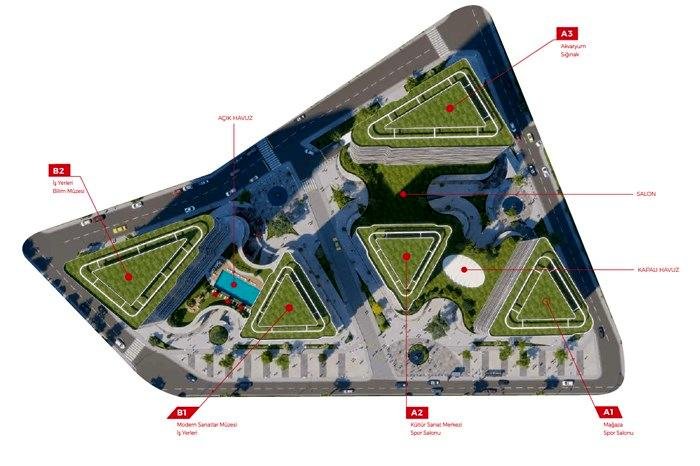 Second, the amenities of the Complex, such as: 24-Hhur security guard, CCTV, outdoor and indoor parking, outdoor and indoor swimming pools , children's pool , lobby and reception, uninterruptible power generator, fitness hall, dry cleaning, clinic day care, children's playground, walking path, cafeteria, restaurant, aquarium, art center, museum, working room, conference room and…
Extraordinary payment terms:
پیش فروش اقساطی
You can purchase with at least 30% of the payment in advance.

We will immediately hand you the ownership document. (with the name of the buyer)

You can pay the remaining during up to 48 months. (with interest less than 1%)

You can have 10% discount on cash purchase.
The delivery date would be January 2022. Please do not hesitate to contact us for any inquiry about buying property in Izmir.
Property Features
24-Hour Security
Aquarium
Art Center
Cafeteria
Clinic
Commercial Units
Conference room
Covered Pool
Double layer windows
Dry Cleaning
Emergency Electric generator
fitness center
Gaming Room
Green Area
Kids Pool
Kindergarden
Kitchen ankastre set
Library
Museum
natural gas
Open Parking
Open Pool
Restaurant
Satellite Tv
Shopping Center
Smart Home
Terrace
VCR security camera systems
walking pathway
Workroom